Automation Workshop uses Triggers to continuously monitor the system for specified states, processes or changes. When the Trigger detects a predetermined type of event, it launches the Task that automatically executes one or multiple Actions to perform the necessary work.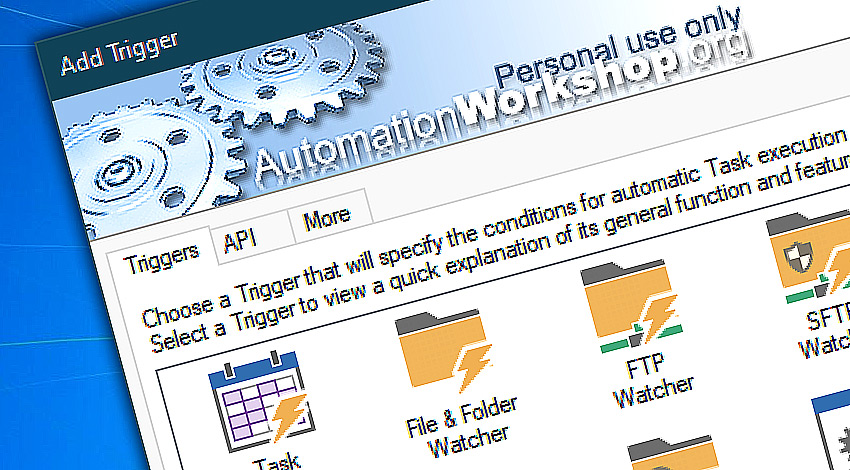 Triggers initiate automated processes when an event matches narrower or broader criteria specified in their parameters. Automation Workshop can monitor file system for various changes, execute Tasks on schedule, upon user login & logout event or system start & shutdown. Tasks can also be started manually on user request.
Automation Triggers
More Triggers
Manual Triggers
By monitoring the system for specific events, Triggers allow to respond pro-actively and get the job done in no time.
Detailed help…
Visit detailed online help knowledge base:
1,365,994
We're growing fast. Thank you!
Admins
best choice!
Recent news
July 8, 2020
Automation Workshop Free Edition v4.1.1 ensures compatibility with different Windows Domain and network configurations.
July 7, 2020
Automation Workshop Free Edition v4.1 now includes Action Favorites. Many UX improvements.
March 12, 2020
Automation Workshop Free Edition v4.0 with SFTP, FTP, and Amazon S3 support. 15 new Cloud & FTP actions.
Automation Workshop truly is a solution for my automation needs! It's fantastic!—Donald K.
Last updated: July 8, 2020
Sep 22, 2020 · 01:39

0.008
·
0.000

0.3 · 3.8