File & Folder Watcher is a freeware file monitor that is capable of detecting all kinds of changes in real-time for files or folders.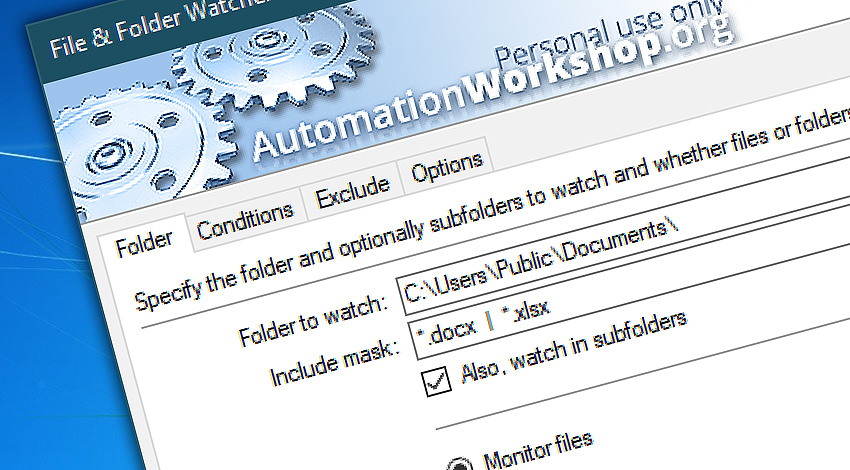 When assessing (evaluating) file monitor application, it is important to keep in mind that the file monitor features themselves are only a part of automated file processing solution. A versatile file monitor has to be ready for less than trivial response upon detecting changes in monitored files. That is where File & Folder Watcher really delivers.
Being an integral part of Automation Workshop Free Edition, this file monitor is readily connectable to a wide and growing set of advanced automation tools.
While some of File & Folder Watcher features essentially depend on the file monitor itself, many others are derived from its inclusion in Automation Workshop Free Edition. Insofar the file monitor is complemented by other Automation Workshop units, it can respond to situation at hand by telling them to copy, move, rename, erase files or folders, send automated emails with or without attachments, print documents, play audio files or use TTS, start applications, execute scripts and much more.
File & Folder Watcher features…
Freeware File & Folder Watcher is designed for intelligent real-time detection of various changes in file system to initiate an associated Task for automatic response.
File & Folder Watcher monitors files or folders in a specified folder and its subfolders.
File monitor contains multiple filters that allow inclusion or exclusion of files or folders based on their name, extension or attributes.
File monitor intelligently distinguishes file creation, deletion, modification and renaming.
File & Folder Watcher file monitor can be triggered by number of file reaching a limit or when file exceeds a particular size.
Due to Automation Workshop working as system service, File & Folder Watcher file monitor can work even if no user is logged into the system.
When triggered, the file monitor launches associated Task. Any of its Actions can then retrieve the name of file or folder which triggered file monitor's activation. The file name can be used as a parameter and, depending on the type of Action, the file itself can be copied, erased, renamed, attached to email, listed in email text, opened in external application, etc.
Detailed help…
Detailed overview including the description of minute details is available on the website of commercial version of Automation Workshop. The online help applies fully also to free File & folder monitor.
2,336,586
We're growing fast. Thank you!
More powerful than you think!
Recent news
May 26, 2023
Automation Workshop Free Edition v7.0.0 offers new actions for managing Windows services and applications, enhanced FTP/cloud operations, UI fixes, and improvements in the Variable Wizard and Advanced Fallback handling.
May 25, 2023
Automation Workshop Free Edition v6.5.0 adds 2 new Triggers—Service Monitor and Process & App Monitor. 5 new Actions—Start & Stop Service, Service Maintenance, List Services, Terminate App, and List Apps.
May 25, 2023
Automation Workshop Free Edition v6.2.0 4 adds 4 new Actions—Change Default Printer, Enclosed Text, Lookup Text, and Append to Variable. Quick value adjustments, access to web content, character groups, freeform text, UNIX epoch time.
Automation Workshop is ease to use, and the power under the hood is brilliant!—Barbara G.
Last updated: May 26, 2023
Dec 11, 2023 · 18:10

0.019
·
0.000

0.6 · 7.5