Automation Workshop Manager is the main interface of the application. Be it new Task creation, IT process overview or Task modification, almost all user interactions with the application begin here.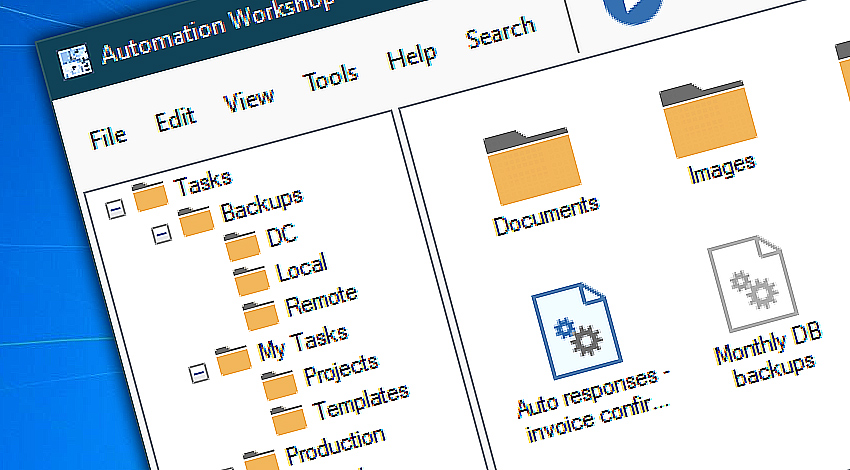 Manager is designed in a way to provide easy access to all important Automation Workshop features as well as automated Tasks themselves. User can see the last events, access various controls, options and settings, as well as take control over every essential process.
Highlights…
Automation Workshop Manager is where most of the work is done when setting up new Tasks or overviewing past and current automated processes.
Shows Tasks and their folders in a structured view.
Allows Task creation, modification and removing.
Displays current Automation Workshop activity.
Allows manual Task execution on demand.
Features direct links to Queue and Log Managers.
Shows real-time service status.
More tools…
Besides information presented in Manager, it is essential to have direct control over actually running Tasks and ability to see the past processes.
More help…
See detailed descriptions on Automation Workshop main interface features in an online knowledge base.
1,729,656
We're growing fast. Thank you!
More powerful than you think!
Recent news
November 29, 2021
Automation Workshop Free Edition v5.5.0 includes Google Cloud Storage and DigitalOcean Spaces support. Numerous UI & UX improvements.
November 26, 2021
Automation Workshop Free Edition v5.2.0 fixes the listing option both for the List Files and the List Remote Files Actions.
August 12, 2021
Automation Workshop Free Edition v5.1.1 updates a networking engine for Cloud & FTP communication.
Automation Workshop provides real-time email feedback! That allows me to deal with issues immediately before they become a headache.—Alice W.
Last updated: November 29, 2021
May 17, 2022 · 11:25

0.004
·
0.000

0.6 · 3.8