Create global variables, values, and constants in a no-code fashion. Automation Workshop Freeware Edition allows managing variables and constans without any programming knowledge.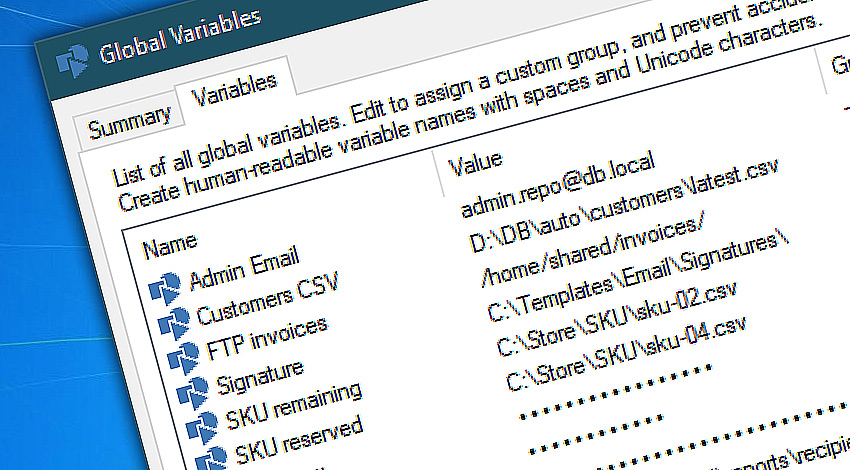 Sometimes it is necessary to use a common value in multiple automated tasks. For example, an email address, email template, server path, etc. can be defined once and then reused in all your automated or scheduled tasks.
Each variable contains a name, value, its description, as well as other fields, such as a group—for easier variable management. Use the special password group to store common passwords safely.
Highlights…
Define common/reusable values for all tasks on a single Windows machine.
A complete Unicode and international character support.
Protected variables to prevent accidental removal.
Multi-line variables that can be used as email templates.
Virtually unlimited variable count and length.
Assign custom groups for effortless variable management.
More help…
Visit detailed online help knowledge base:
1,937,651
We're growing fast. Thank you!
More powerful than you think!
Recent news
June 21, 2022
Automation Workshop Free Edition v6.1.0 adds 3 new Actions, including Sync Folders. Action highlighting, remote deployment enhancements, minor bug fixes, and much more…
June 20, 2022
Automation Workshop Free Edition v6.0.0 features remote orchestration and management tools, API, global variables, schedule policy. Countless improvements.
November 29, 2021
Automation Workshop Free Edition v5.5.0 includes Google Cloud Storage and DigitalOcean Spaces support. Numerous UI & UX improvements.
Automation Workshop is both free and priceless at the same time.—Tete A.
Last updated: June 21, 2022
Nov 29, 2022 · 21:53

0.004
·
0.000

0.6 · 3.8