Create global variables, values, and constants in a no-code fashion. Automation Workshop Freeware Edition allows managing variables and constans without any programming knowledge.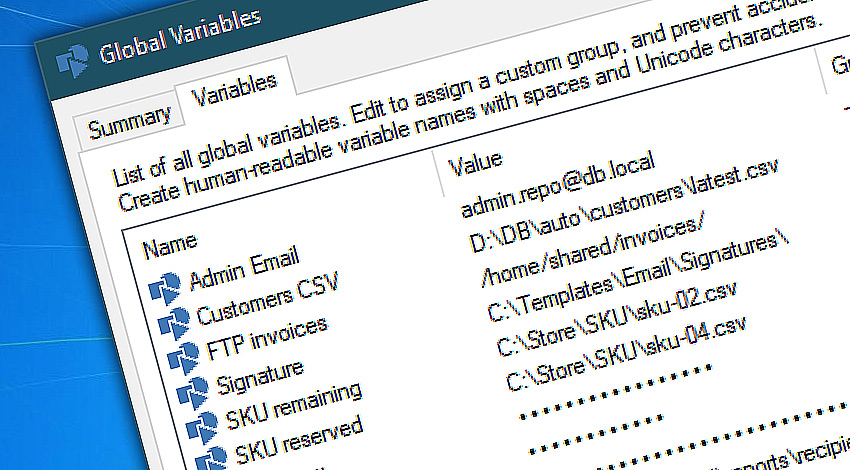 Sometimes it is necessary to use a common value in multiple automated tasks. For example, an email address, email template, server path, etc. can be defined once and then reused in all your automated or scheduled tasks.
Each variable contains a name, value, its description, as well as other fields, such as a group—for easier variable management. Use the special password group to store common passwords safely.
Highlights…
Define common/reusable values for all tasks on a single Windows machine.
A complete Unicode and international character support.
Protected variables to prevent accidental removal.
Multi-line variables that can be used as email templates.
Virtually unlimited variable count and length.
Assign custom groups for effortless variable management.
More help…
Visit detailed online help knowledge base:
2,135,442
We're growing fast. Thank you!
More powerful than you think!
Recent news
May 26, 2023
Automation Workshop Free Edition v7.0.0 offers new actions for managing Windows services and applications, enhanced FTP/cloud operations, UI fixes, and improvements in the Variable Wizard and Advanced Fallback handling.
May 25, 2023
Automation Workshop Free Edition v6.5.0 adds 2 new Triggers—Service Monitor and Process & App Monitor. 5 new Actions—Start & Stop Service, Service Maintenance, List Services, Terminate App, and List Apps.
May 25, 2023
Automation Workshop Free Edition v6.2.0 4 adds 4 new Actions—Change Default Printer, Enclosed Text, Lookup Text, and Append to Variable. Quick value adjustments, access to web content, character groups, freeform text, UNIX epoch time.
I love Automation Workshop! It blows away all the other products.—Daniel N.
Last updated: May 26, 2023
Jun 04, 2023 · 19:01

0.004
·
0.000

0.6 · 3.8