Operations Manager collects various essential data on Automation Workshop performance. The information is brought to user in a convenient and easy-to-understand summary overview and statistics screen.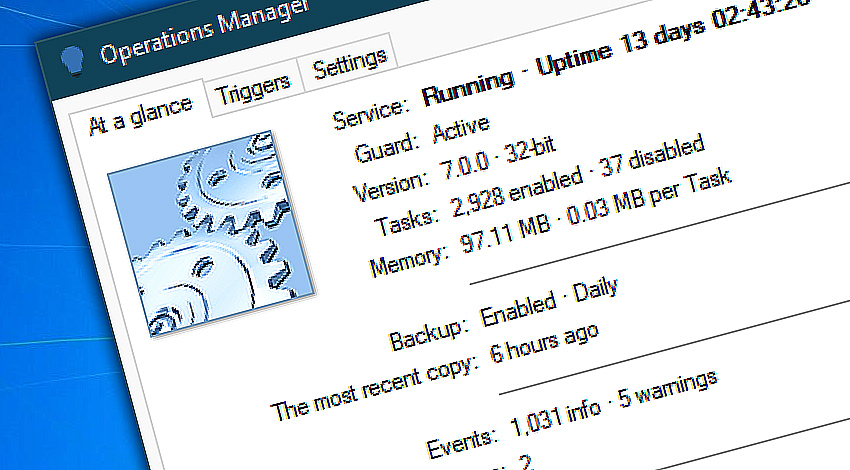 Operations Manager allows You to monitor executed Tasks, active Triggers, service uptime, memory use and other parameters to help ensure that the software is performing at its best capacity.
Highlights…
Operations manager provides real-time data on software performance.
See Service status and current uptime.
Ensure that the service guard is active and monitors service status.
See memory use of the software.
Check if backups are enabled and performed.
More help…
Visit detailed online help knowledge base:
2,011,989
We're growing fast. Thank you!
More powerful than you think!
Recent news
June 21, 2022
Automation Workshop Free Edition v6.1.0 adds 3 new Actions, including Sync Folders. Action highlighting, remote deployment enhancements, minor bug fixes, and much more…
June 20, 2022
Automation Workshop Free Edition v6.0.0 features remote orchestration and management tools, API, global variables, schedule policy. Countless improvements.
November 29, 2021
Automation Workshop Free Edition v5.5.0 includes Google Cloud Storage and DigitalOcean Spaces support. Numerous UI & UX improvements.
Automation Workshop truly is a solution for my automation needs! It's fantastic!—Donald K.
Last updated: June 21, 2022
Feb 08, 2023 · 03:12

0.004
·
0.000

0.7 · 3.8