Operations Manager collects various essential data on Automation Workshop performance. The information is brought to user in a convenient and easy-to-understand summary overview and statistics screen.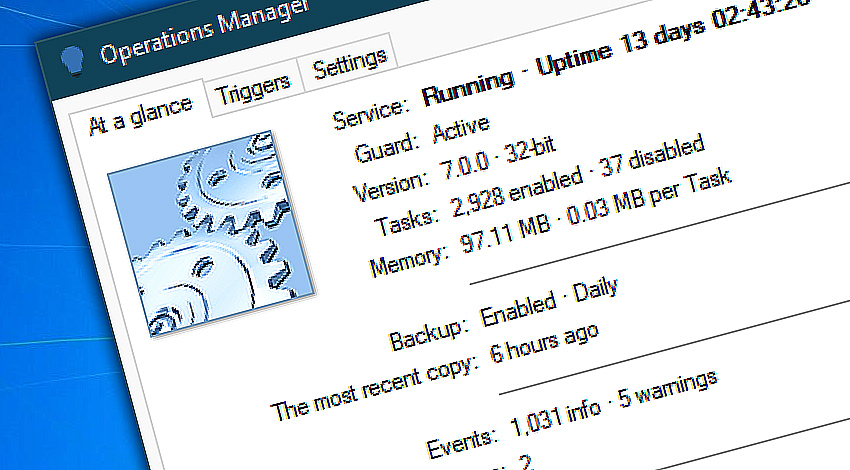 Operations Manager allows You to monitor executed Tasks, active Triggers, service uptime, memory use and other parameters to help ensure that the software is performing at its best capacity.
Highlights…
Operations manager provides real-time data on software performance.
See Service status and current uptime.
Ensure that the service guard is active and monitors service status.
See memory use of the software.
Check if backups are enabled and performed.
More help…
Visit detailed online help knowledge base:
1,729,657
We're growing fast. Thank you!
More powerful than you think!
Recent news
November 29, 2021
Automation Workshop Free Edition v5.5.0 includes Google Cloud Storage and DigitalOcean Spaces support. Numerous UI & UX improvements.
November 26, 2021
Automation Workshop Free Edition v5.2.0 fixes the listing option both for the List Files and the List Remote Files Actions.
August 12, 2021
Automation Workshop Free Edition v5.1.1 updates a networking engine for Cloud & FTP communication.
Automation Workshop makes doing my job much easier.—Susan H.
Last updated: November 29, 2021
May 17, 2022 · 11:25

0.003
·
0.000

0.6 · 3.8