Operations Manager collects various essential data on Automation Workshop performance. The information is brought to user in a convenient and easy-to-understand summary overview and statistics screen.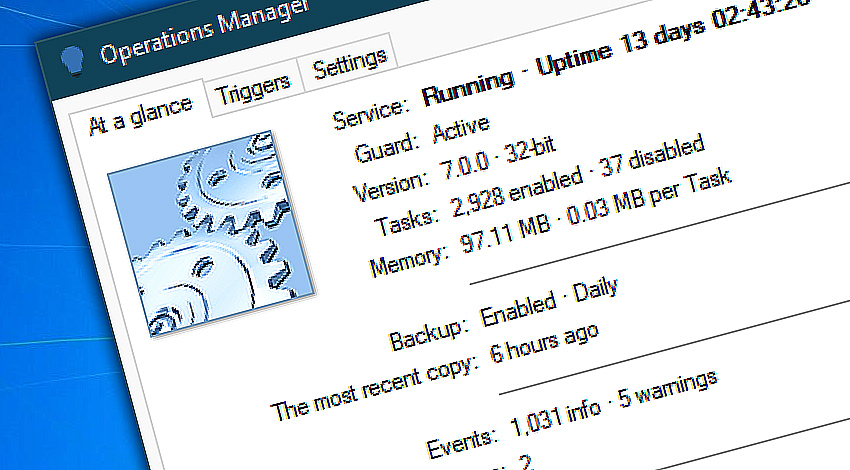 Operations Manager allows You to monitor executed Tasks, active Triggers, service uptime, memory use and other parameters to help ensure that the software is performing at its best capacity.
Highlights…
Operations manager provides real-time data on software performance.
See Service status and current uptime.
Ensure that the service guard is active and monitors service status.
See memory use of the software.
Check if backups are enabled and performed.
More help…
Visit detailed online help knowledge base:
1,366,309
We're growing fast. Thank you!
More powerful than you think!
Recent news
July 8, 2020
Automation Workshop Free Edition v4.1.1 ensures compatibility with different Windows Domain and network configurations.
July 7, 2020
Automation Workshop Free Edition v4.1 now includes Action Favorites. Many UX improvements.
March 12, 2020
Automation Workshop Free Edition v4.0 with SFTP, FTP, and Amazon S3 support. 15 new Cloud & FTP actions.
Automation Workshop has allowed us to focus on our vision instead of mundane trivialities.—Jacob E.
Last updated: July 8, 2020
Sep 22, 2020 · 17:31

0.005
·
1.000

0.3 · 3.8