Deploy (upload) and run (start) automated and scheduled tasks on multiple Windows computers with one click for free.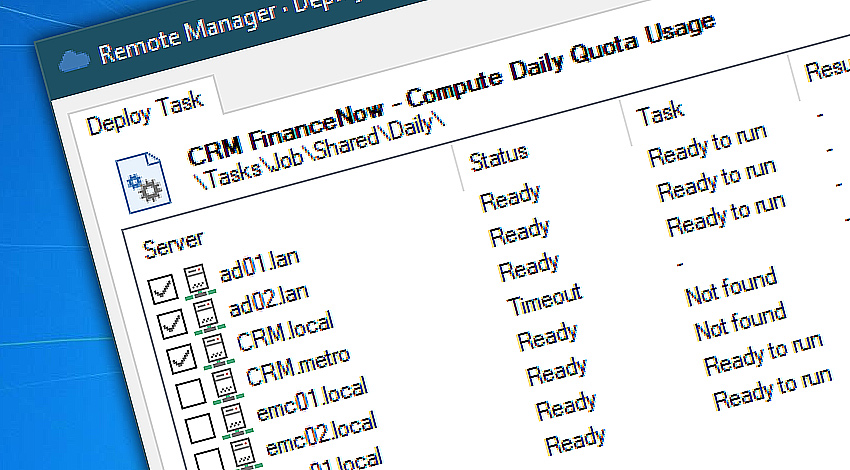 Automation Workshop Freeware Edition allows deploying and running tasks on multiple Windows machines where other Automation Workshop instances are installed.
Uploading and starting tasks on other machines is as easy as a simple mouse click. An intuitive no-code tool for common Windows task automation—be it a home network or enterprise with thousands of servers.
Highlights…
Automation Workshop Freeware Edition allows starting and managing automated tasks from one single interface.
A free no-code tool to run tasks on multiple computers.
Enable/disable (activate/deactivate) your remote tasks on selected servers.
Instantly view servers statuses and remote tasks availability.
Act on all or selected Windows machines.
Get immediate feedback for all remote task operations.
More help…
Visit detailed online help knowledge base:
1,937,714
We're growing fast. Thank you!
Best
in class!
Recent news
June 21, 2022
Automation Workshop Free Edition v6.1.0 adds 3 new Actions, including Sync Folders. Action highlighting, remote deployment enhancements, minor bug fixes, and much more…
June 20, 2022
Automation Workshop Free Edition v6.0.0 features remote orchestration and management tools, API, global variables, schedule policy. Countless improvements.
November 29, 2021
Automation Workshop Free Edition v5.5.0 includes Google Cloud Storage and DigitalOcean Spaces support. Numerous UI & UX improvements.
Automation Workshop is performing brilliantly. After a while you just forget it's there.—Anthony G.
Last updated: June 21, 2022
Nov 29, 2022 · 23:19

0.004
·
0.000

0.6 · 3.8