Automation Workshop Free Edition features a Trigger that can watch an FTP server for various file system events, such as, when new file is uploaded to FTP, when file is changed or deleted. It supports regular FTP, as well as, secure FTPS hardened by SSL or TLS.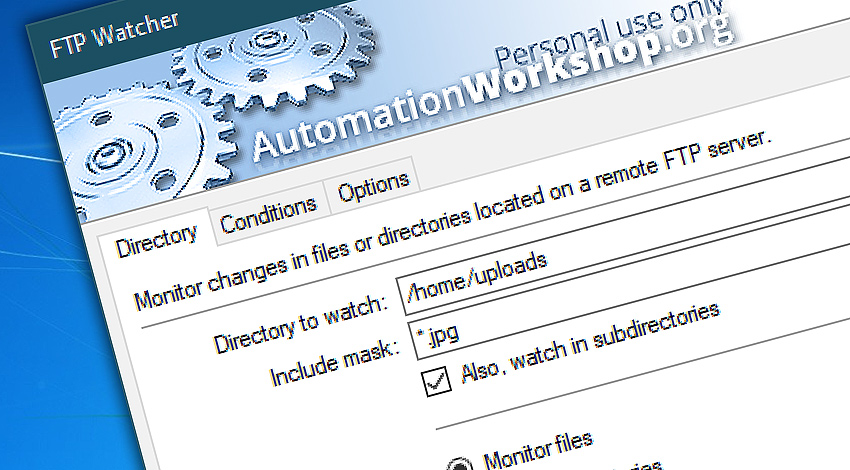 FTP Watcher is used to react on file changes on the FTP server. It then launces automated Tasks, that can then download the file, send it by email as an attachment, parse file contents with powerful Text processing Actions, and much more.
FTP Watcher can also monitor FTP server, but not only monitoring TCP connection, but also ensuring that files are accessible/readable, that connection is reliable, and file transfers can occur without interruptions.
FTP Watcher features…
Monitor FTP or secure FTPS server in real-time, and launch automated Tasks when predefined evets happens.
Watch an FTP server periodically and upload, download files, or sync whole directories afterwards.
Setup a custom FTP server monitoring with advanced rules, including if–else logic, all using simple GUI interface, without writing any scripts.
Detailed help…
2,336,511
We're growing fast. Thank you!
Best
in class!
Recent news
May 26, 2023
Automation Workshop Free Edition v7.0.0 offers new actions for managing Windows services and applications, enhanced FTP/cloud operations, UI fixes, and improvements in the Variable Wizard and Advanced Fallback handling.
May 25, 2023
Automation Workshop Free Edition v6.5.0 adds 2 new Triggers—Service Monitor and Process & App Monitor. 5 new Actions—Start & Stop Service, Service Maintenance, List Services, Terminate App, and List Apps.
May 25, 2023
Automation Workshop Free Edition v6.2.0 4 adds 4 new Actions—Change Default Printer, Enclosed Text, Lookup Text, and Append to Variable. Quick value adjustments, access to web content, character groups, freeform text, UNIX epoch time.
I'd like to say how important Automation Workshop has become to my business! I'm proud to be your customer.—Richard M.
Last updated: May 26, 2023
Dec 11, 2023 · 16:29

0.022
·
0.000

0.6 · 7.5