Printing Actions allows automatic file printing by requesting the associated program to open and print the file on default printer.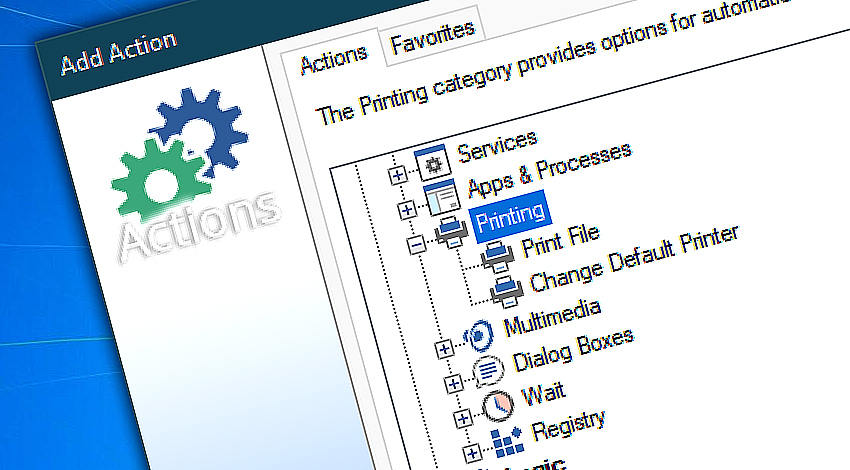 Experience automation benefits by utilizing amazing printing of your documents using a no-code solution. Say goodbye to the tedious, time-consuming task of manual printing. Enjoy increased efficiency and productivity as your documents are printed in a fully unattended mode.
Print File Action (coupled with the Change Default Printer Action) can print every printable format as long as the associated applications are installed. Formats range from popular Adobe PDFs to Word documents and go as far as professional graphic file formats of various kinds.
Although you can automatically print many things with Print File Action, we suggest you consider responsibly what will be printed. Excessive paper use may negatively impact the environment.
Detailed help…
Print Actions…
Print File automatically prints the documents on the default printer.
Change Default Printer instructs Automation Workshop to use a different printer.
2,336,505
We're growing fast. Thank you!
More powerful than you think!
Recent news
May 26, 2023
Automation Workshop Free Edition v7.0.0 offers new actions for managing Windows services and applications, enhanced FTP/cloud operations, UI fixes, and improvements in the Variable Wizard and Advanced Fallback handling.
May 25, 2023
Automation Workshop Free Edition v6.5.0 adds 2 new Triggers—Service Monitor and Process & App Monitor. 5 new Actions—Start & Stop Service, Service Maintenance, List Services, Terminate App, and List Apps.
May 25, 2023
Automation Workshop Free Edition v6.2.0 4 adds 4 new Actions—Change Default Printer, Enclosed Text, Lookup Text, and Append to Variable. Quick value adjustments, access to web content, character groups, freeform text, UNIX epoch time.
Automation Workshop has saved me over an hour each day. That's literally extending my life.—Richard J.
Last updated: May 26, 2023
Dec 11, 2023 · 16:21

0.021
·
0.000

0.6 · 7.5