Print File Actions allows automatic file printing by requesting the associated program to open and print the file on default printer.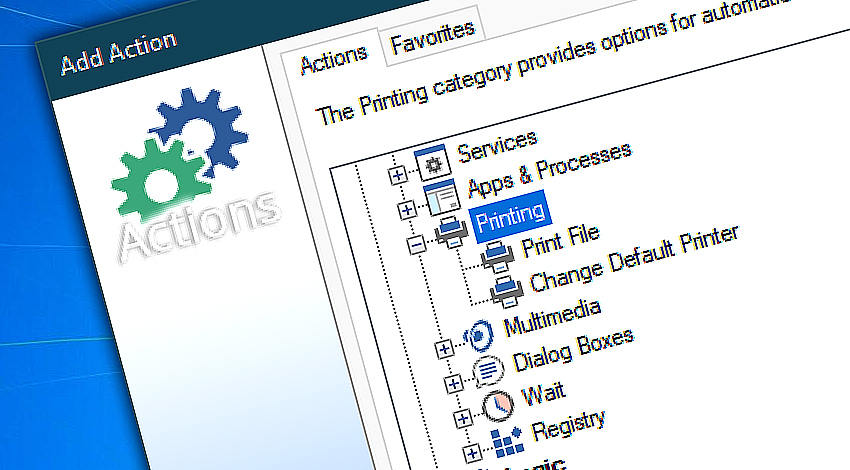 Print File Action can print every printable format as long as the associated applications are installed. Formats range from popular Adobe PDFs to Word documents and go as far as professional graphic file formats of various kinds.
Although you can automatically print many things with Print File Action, we suggest to consider responsibly what will be printed. Excessive paper use may negatively impact the environment.
Detailed help…
Print File · requires applications to print files of associated type.
Print Actions…
Print File automatically prints the documents on the default printer.
2,011,906
We're growing fast. Thank you!
More powerful than you think!
Recent news
June 21, 2022
Automation Workshop Free Edition v6.1.0 adds 3 new Actions, including Sync Folders. Action highlighting, remote deployment enhancements, minor bug fixes, and much more…
June 20, 2022
Automation Workshop Free Edition v6.0.0 features remote orchestration and management tools, API, global variables, schedule policy. Countless improvements.
November 29, 2021
Automation Workshop Free Edition v5.5.0 includes Google Cloud Storage and DigitalOcean Spaces support. Numerous UI & UX improvements.
I love Automation Workshop, it's easy, and it saves me a ton of money on other software.—Theodere R.
Last updated: June 21, 2022
Feb 08, 2023 · 01:19

0.004
·
0.000

0.7 · 3.8