Event Details displays the full details of events in Automation Workshop and provides a quick link to knowledge base chapter with comprehensive relevant information.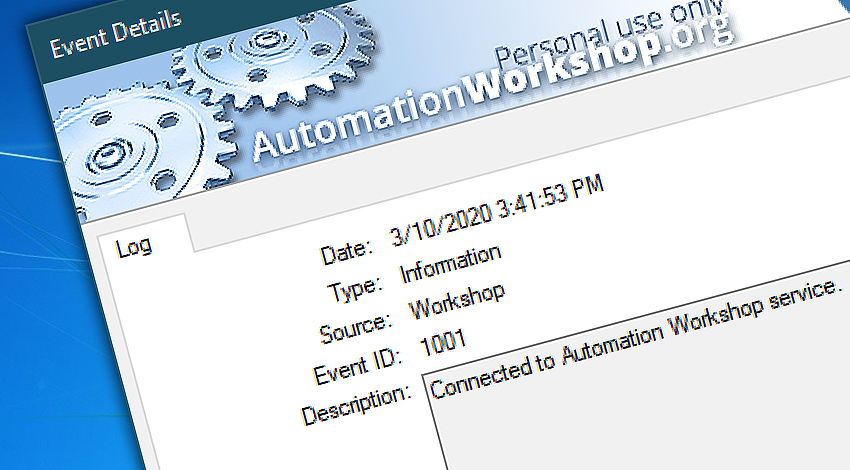 Automation Workshop logs its performance in Error Events, Warning Events and Information Events.
Highlights…
Event Details allows to quickly and easily analyze Automation Workshop individual events, see their type, source, ID and description.
See event type, source and ID.
Click through recent events to see their details.
Find event information in online knowledge base.
More help…
Visit detailed online help knowledge base:
2,264,141
We're growing fast. Thank you!
Best
of the best!
Recent news
May 26, 2023
Automation Workshop Free Edition v7.0.0 offers new actions for managing Windows services and applications, enhanced FTP/cloud operations, UI fixes, and improvements in the Variable Wizard and Advanced Fallback handling.
May 25, 2023
Automation Workshop Free Edition v6.5.0 adds 2 new Triggers—Service Monitor and Process & App Monitor. 5 new Actions—Start & Stop Service, Service Maintenance, List Services, Terminate App, and List Apps.
May 25, 2023
Automation Workshop Free Edition v6.2.0 4 adds 4 new Actions—Change Default Printer, Enclosed Text, Lookup Text, and Append to Variable. Quick value adjustments, access to web content, character groups, freeform text, UNIX epoch time.
Automation Workshop is both free and priceless at the same time.—Tete A.
Last updated: May 26, 2023
Oct 04, 2023 · 08:46

0.021
·
0.000

0.6 · 7.5