Event Details displays the full details of events in Automation Workshop and provides a quick link to knowledge base chapter with comprehensive relevant information.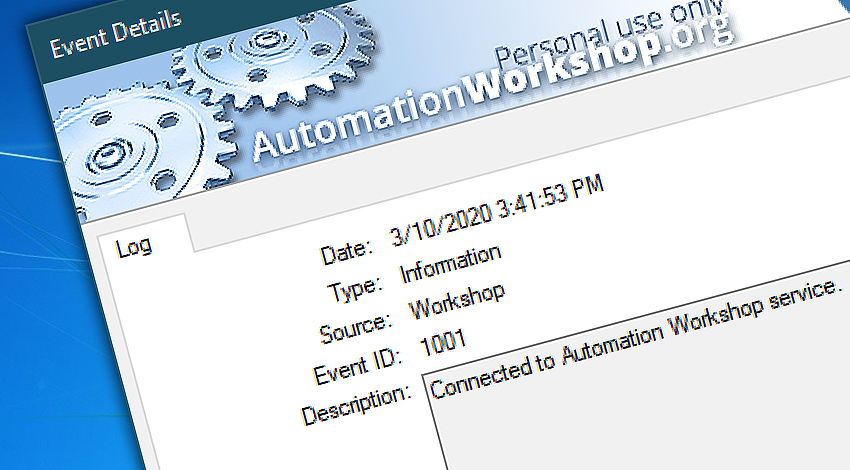 Automation Workshop logs its performance in Error Events, Warning Events and Information Events.
Highlights…
Event Details allows to quickly and easily analyze Automation Workshop individual events, see their type, source, ID and description.
See event type, source and ID.
Click through recent events to see their details.
Find event information in online knowledge base.
More help…
Visit detailed online help knowledge base:
2,011,921
We're growing fast. Thank you!
Best
of the best!
Recent news
June 21, 2022
Automation Workshop Free Edition v6.1.0 adds 3 new Actions, including Sync Folders. Action highlighting, remote deployment enhancements, minor bug fixes, and much more…
June 20, 2022
Automation Workshop Free Edition v6.0.0 features remote orchestration and management tools, API, global variables, schedule policy. Countless improvements.
November 29, 2021
Automation Workshop Free Edition v5.5.0 includes Google Cloud Storage and DigitalOcean Spaces support. Numerous UI & UX improvements.
We're very pleased with our choice of Automation Workshop. We've expanded our use and rely on it heavily.—Laurie L.
Last updated: June 21, 2022
Feb 08, 2023 · 01:40

0.004
·
0.000

0.6 · 3.8