Automation Workshop Freeware Edition features the Remote Manager that allows connecting remote Windows machines to schedule and automate recurring tasks. A freeware no-code tool with a point-and-click user interface · Remote Management highlights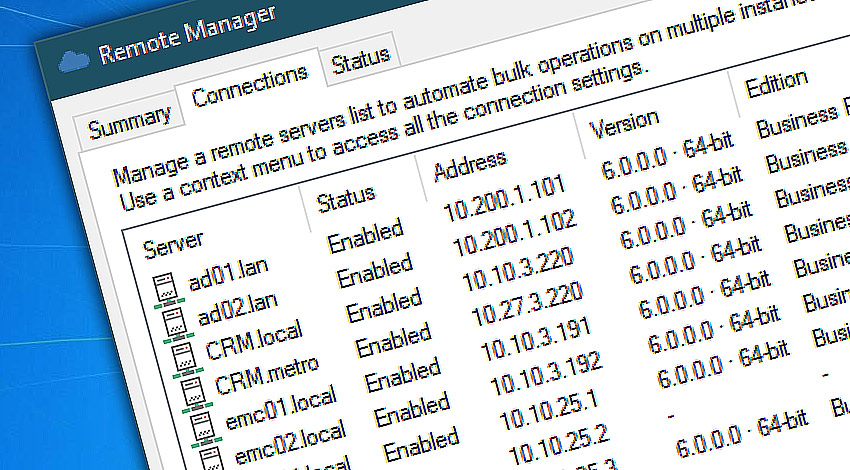 Remote Manager allows managing other Automation Workshop instances that are located on your LAN or internet. It uses military grade secure connection to ensure that your data is safe in the transit.
The added remote instances later can be used for Remote task deployment, thus allowing to run a single task on numerous remote Windows servers or workstations.
Highlights…
A no-code tool allows defining remote instances with a few simple steps. No programming knowledge is required.
Define one or more remote servers to be automated from a single interface.
Seamless task orchestration across the entire Automation Workshop platform.
Quickly view the status of all your instances to ensure their availability.
Disable instances that are rarely used.
Instantly get feedback about connected Automation Workshop instances, their performance, and access rights.
More help…
Visit detailed online help knowledge base:
1,937,724
We're growing fast. Thank you!
Simple,
yet efficient!
Recent news
June 21, 2022
Automation Workshop Free Edition v6.1.0 adds 3 new Actions, including Sync Folders. Action highlighting, remote deployment enhancements, minor bug fixes, and much more…
June 20, 2022
Automation Workshop Free Edition v6.0.0 features remote orchestration and management tools, API, global variables, schedule policy. Countless improvements.
November 29, 2021
Automation Workshop Free Edition v5.5.0 includes Google Cloud Storage and DigitalOcean Spaces support. Numerous UI & UX improvements.
Automation Workshop has saved me over an hour each day. That's literally extending my life.—Richard J.
Last updated: June 21, 2022
Nov 29, 2022 · 23:33

0.004
·
0.000

0.6 · 3.8