Automation Workshop Freeware Edition features the Remote Manager that allows connecting remote Windows machines to schedule and automate recurring tasks. A freeware no-code tool with a point-and-click user interface · Remote Management highlights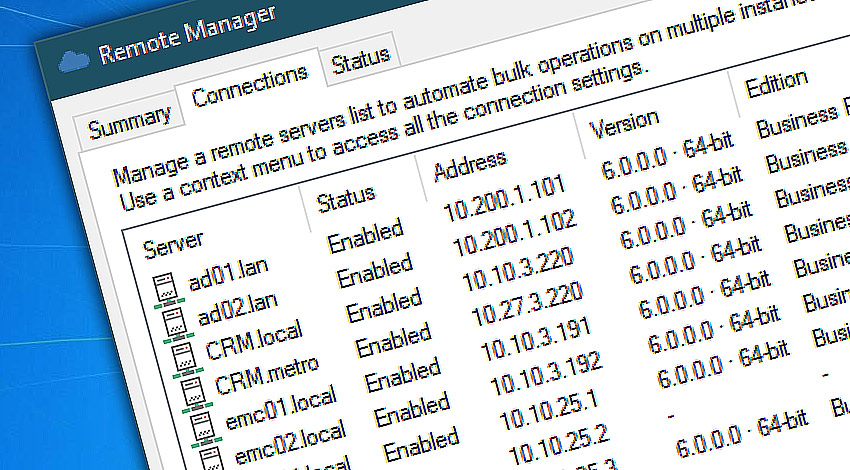 Remote Manager allows managing other Automation Workshop instances that are located on your LAN or internet. It uses military grade secure connection to ensure that your data is safe in the transit.
The added remote instances later can be used for Remote task deployment, thus allowing to run a single task on numerous remote Windows servers or workstations.
Highlights…
A no-code tool allows defining remote instances with a few simple steps. No programming knowledge is required.
Define one or more remote servers to be automated from a single interface.
Seamless task orchestration across the entire Automation Workshop platform.
Quickly view the status of all your instances to ensure their availability.
Disable instances that are rarely used.
Instantly get feedback about connected Automation Workshop instances, their performance, and access rights.
More help…
Visit detailed online help knowledge base:
2,135,513
We're growing fast. Thank you!
Simple,
yet efficient!
Recent news
May 26, 2023
Automation Workshop Free Edition v7.0.0 offers new actions for managing Windows services and applications, enhanced FTP/cloud operations, UI fixes, and improvements in the Variable Wizard and Advanced Fallback handling.
May 25, 2023
Automation Workshop Free Edition v6.5.0 adds 2 new Triggers—Service Monitor and Process & App Monitor. 5 new Actions—Start & Stop Service, Service Maintenance, List Services, Terminate App, and List Apps.
May 25, 2023
Automation Workshop Free Edition v6.2.0 4 adds 4 new Actions—Change Default Printer, Enclosed Text, Lookup Text, and Append to Variable. Quick value adjustments, access to web content, character groups, freeform text, UNIX epoch time.
Automation Workshop provides all the functionality I need, out of the box, at no cost. It's free!—Colin A.
Last updated: May 26, 2023
Jun 04, 2023 · 20:37

0.005
·
0.000

0.6 · 3.8