Automation Workshop Freeware edition allows starting its tasks from any other app or script using API.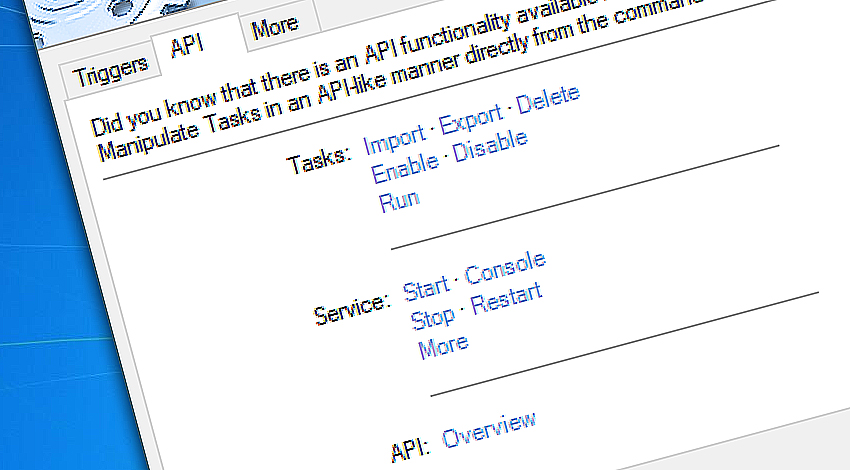 Run, manage, enable, disable, import, or export any automated task using a simple command line API. Automation Workshop itself can be automated in a fully unattended manner.
Automation Workshop Service API allows installing, starting, stopping, etc. the Service itself. Any scenario or requirements can be covered with a very flexible no-code solution and the best part of it—it's free.
Highlights…
Do you have an app, script, or database? Start automated workflows from anywhere!
Yet another technique to automate your recurring workflows.
Export tasks from one machine and automatically import into another.
Manage tasks (by enabling/disabling) from a batch or PowerShell script.
Start/stop the Service when server maintenance is required.
Do automation from anywhere where running external commands are supported.
More help…
Visit detailed online help knowledge base:
Automation Workshop Service Management API:
2,336,547
We're growing fast. Thank you!
Awesome in automation!
Recent news
May 26, 2023
Automation Workshop Free Edition v7.0.0 offers new actions for managing Windows services and applications, enhanced FTP/cloud operations, UI fixes, and improvements in the Variable Wizard and Advanced Fallback handling.
May 25, 2023
Automation Workshop Free Edition v6.5.0 adds 2 new Triggers—Service Monitor and Process & App Monitor. 5 new Actions—Start & Stop Service, Service Maintenance, List Services, Terminate App, and List Apps.
May 25, 2023
Automation Workshop Free Edition v6.2.0 4 adds 4 new Actions—Change Default Printer, Enclosed Text, Lookup Text, and Append to Variable. Quick value adjustments, access to web content, character groups, freeform text, UNIX epoch time.
Automation Workshop provides real-time email feedback! That allows me to deal with issues immediately before they become a headache.—Alice W.
Last updated: May 26, 2023
Dec 11, 2023 · 17:18

0.023
·
0.000

0.6 · 7.5