A shortcut on the Desktop to start a Task manually, is one more way to use Automation Workshop Free Edition. It allows to launch a Task by simple click instead of by Task Scheduler or by other Triggers.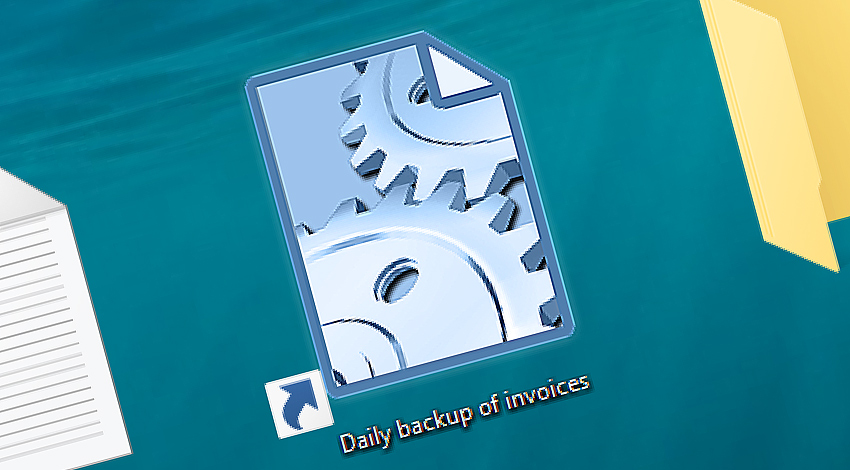 Sometimes a Scheduled Task needs to be run manually. Sometimes it is more convenient to launch a Task by simple click or tap. Or simply a program or app must be run under different user account. Anyway, all this is easily done with Automation Workshop.
Any Task, for any user and with any complexity, can be started by simple click. It can be fully automatic Task, or a Task that features Interactive Dialog Actions. It can connect to remote servers, or send out emails from predefined .csv files. Anything you can imagine.
Usage examples…
Another, sometimes more convenient way to start your automated jobs.
Define a keyboard shortcut to start a Task by pressing a key combination on the keyboard.
Run Tasks by any user, under any other user's account by defining them in the Task's properties. A user can even run a Task under Windows System user's account.
Run automation…
Besides options for creating batch file replacements for manual start on user demand, freeware Automation Workshop offers many ways to run scripts, macros, applications, commands in fully controlled automated manner · More on Automated run.
Detailed help…
Visit detailed online help knowledge base:
1,554,048
We're growing fast. Thank you!
Admins
best choice!
Recent news
August 12, 2021
Automation Workshop Free Edition v5.1.1 updates a networking engine for Cloud & FTP communication.
August 3, 2021
Automation Workshop Free Edition v5.1.0 enhances Log Manager filtering features and improves Windows edition detection. Fixes some UI bugs.
August 2, 2021
Automation Workshop Free Edition v5.0.0 introduces 6 new Actions. Trigger Manager to manage Triggers. 50+ UI and UX improvements.
I have used your Automation Workshop since day one. Thank you!—Emma L.
Last updated: August 12, 2021
Oct 22, 2021 · 09:36

0.004
·
0.000

0.6 · 3.8