Task Scheduler is a freeware Task scheduling application that is integrated in Automation Workshop Free Edition and capable of launching a wide range of Actions according to simple or complex schedules.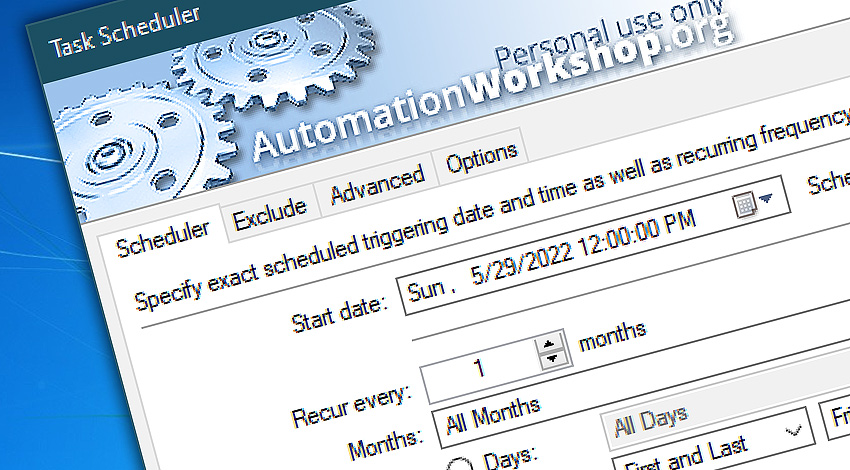 A Task scheduling application can be characterized by two sets of basic parameters, namely, the types of schedules that can be setup by a Task scheduling application and operations that the Task can actually do when executed according to its schedule.
Both challenges are amply answered by Task Scheduler, a freeware Task scheduling application that is included in Automation Workshop Free Edition. Task Scheduler itself features options for creating both simple and complex schedules. However, it is exactly its integration in Automation Workshop which accounts for the wide variety of actual operations it is capable to invoke.
Task Scheduler highlights…
Free Task Scheduler provides a solid basis for automating routine tasks of various regularity in different contexts.
Task Scheduler can automatically start routine tasks on recurring schedule. From simple schedules like hourly, daily or monthly execution to more complex scenarios like the first and third Monday of every third month, Task Scheduler can take care of them all.
Two or more Task Schedulers can be combined within the same Task to design even more complex schedules.
Run built-in Actions as well as external programs, scripts, batch files at any time you want.
Automation Workshop runs as Windows Service and can schedule Tasks even when no user is logged in. Just provide the credentials and the Task will be executed on behalf of specified user.
Task Scheduler features…
Advanced freeware Task Scheduler provides a strong set of features for creating the most versatile schedule of system automation events.
Specify the date and time when the schedule starts as well as periods of recurrence.
Run a Task once, secondly, minutely, hourly, daily, weekly, monthly, yearly or on less regular schedule.
Repeat Task for multiple times within each recurrence period.
Select months, dates, weekdays and/or times to exclude from schedules of routine tasks.
Detailed help…
Detailed overview of free Task Scheduler including the description of minute details is available on the website of commercial version of Automation Workshop.
1,554,057
We're growing fast. Thank you!
Simple,
yet efficient!
Recent news
August 12, 2021
Automation Workshop Free Edition v5.1.1 updates a networking engine for Cloud & FTP communication.
August 3, 2021
Automation Workshop Free Edition v5.1.0 enhances Log Manager filtering features and improves Windows edition detection. Fixes some UI bugs.
August 2, 2021
Automation Workshop Free Edition v5.0.0 introduces 6 new Actions. Trigger Manager to manage Triggers. 50+ UI and UX improvements.
I'd like to say how important Automation Workshop has become to my business! I'm proud to be your customer.—Richard M.
Last updated: August 12, 2021
Oct 22, 2021 · 10:01

0.003
·
0.000

0.6 · 3.8