Automation Workshop Free Edition features an integrated module to monitor DigitalOcean Spaces for file events. Watch the cloud for new, removed, and modified files. Scan directories for file size and file count changes, and a lot more.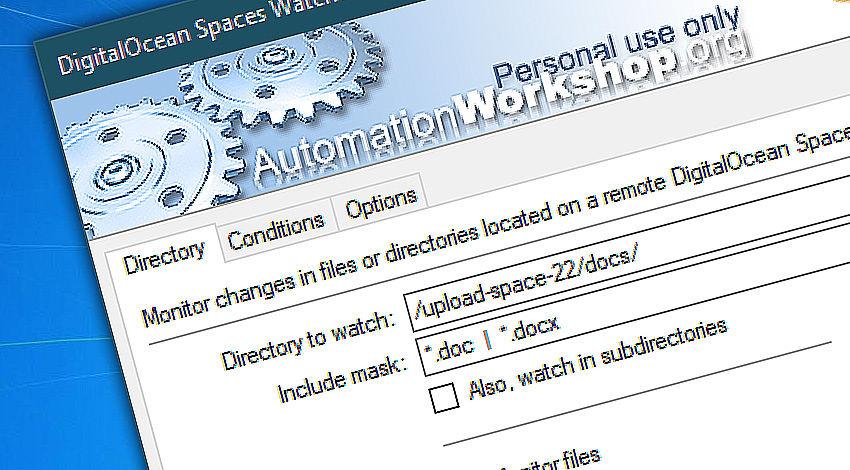 Automation Workshop is a no-code solution that does not require coding or programming to automate your tasks. They run unattended 24/7/365 and are completely free.
The DigitalOcean Spaces Watcher detects file changes to later download, transfer, remove, and perform other file operations on the cloud. There are more than 100+ different Actions available.
DigitalOcean Watcher features…
Send email as soon as changes occur on the cloud.
Watch for changes in the DigitalOcean Space, and when changes occur, download or sync the files to your local machine. No user interaction required.
Regularly scan file content for changes in the DigitalOcean Cloud and process them using a powerful set of Text and List processing Actions.
Detailed help…
1,599,415
We're growing fast. Thank you!
Simple,
yet efficient!
Recent news
November 29, 2021
Automation Workshop Free Edition v5.5.0 includes Google Cloud Storage and DigitalOcean Spaces support. Numerous UI & UX improvements.
November 26, 2021
Automation Workshop Free Edition v5.2.0 fixes the listing option both for the List Files and the List Remote Files Actions.
August 12, 2021
Automation Workshop Free Edition v5.1.1 updates a networking engine for Cloud & FTP communication.
Just wanted to say thank you for offering Automation Workshop for free. It has made my computing "rituals" a whole lot easier. Appreciate being able to use this without charge.—Bob G.
Last updated: November 29, 2021
Jan 25, 2022 · 17:31

0.004
·
0.000

0.6 · 3.8