Automation Workshop Free Edition features an integrated module to monitor DigitalOcean Spaces for file events. Watch the cloud for new, removed, and modified files. Scan directories for file size and file count changes, and a lot more.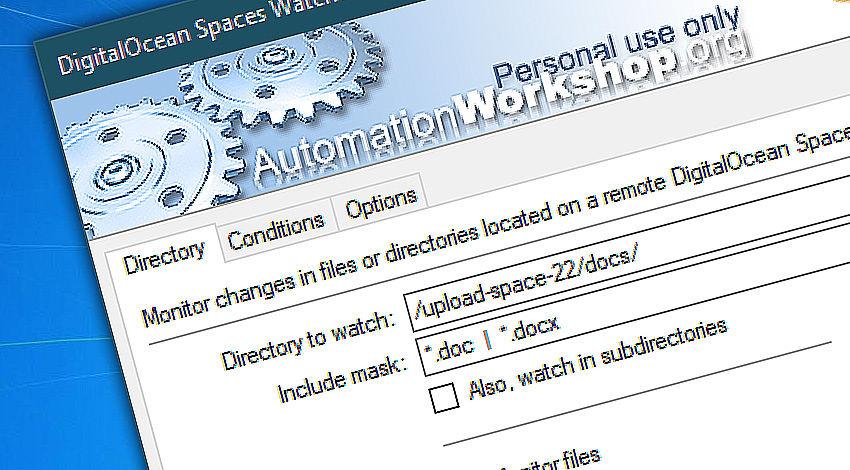 Automation Workshop is a no-code solution that does not require coding or programming to automate your tasks. They run unattended 24/7/365 and are completely free.
The DigitalOcean Spaces Watcher detects file changes to later download, transfer, remove, and perform other file operations on the cloud. There are more than 100+ different Actions available.
DigitalOcean Watcher features…
Send email as soon as changes occur on the cloud.
Watch for changes in the DigitalOcean Space, and when changes occur, download or sync the files to your local machine. No user interaction required.
Regularly scan file content for changes in the DigitalOcean Cloud and process them using a powerful set of Text and List processing Actions.
Detailed help…
1,937,671
We're growing fast. Thank you!
Simple,
yet efficient!
Recent news
June 21, 2022
Automation Workshop Free Edition v6.1.0 adds 3 new Actions, including Sync Folders. Action highlighting, remote deployment enhancements, minor bug fixes, and much more…
June 20, 2022
Automation Workshop Free Edition v6.0.0 features remote orchestration and management tools, API, global variables, schedule policy. Countless improvements.
November 29, 2021
Automation Workshop Free Edition v5.5.0 includes Google Cloud Storage and DigitalOcean Spaces support. Numerous UI & UX improvements.
We're very pleased with our choice of Automation Workshop. We've expanded our use and rely on it heavily.—Laurie L.
Last updated: June 21, 2022
Nov 29, 2022 · 22:20

0.005
·
0.000

0.6 · 3.8