Monitor Windows applications and background processes with the Process & App Monitor Trigger. As a component of Automation Workshop Free Edition, it allows you to create fully unattended workflows that watches Windows programs and initiates a workflow on specific conditions.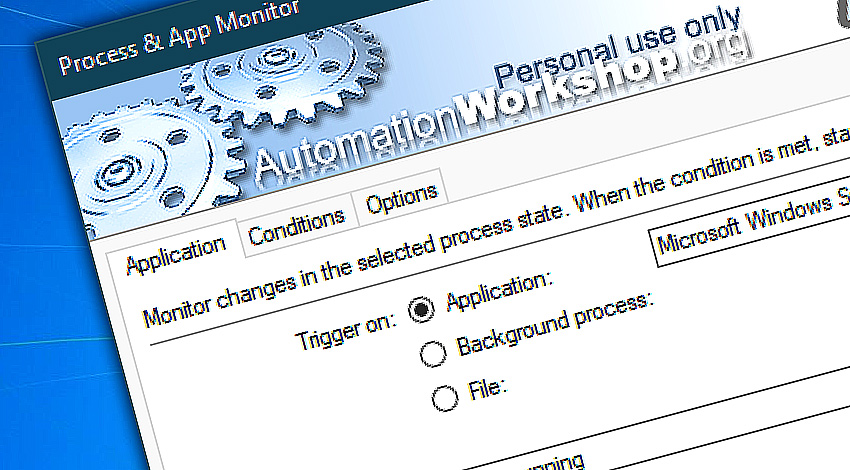 The Process & App Monitor Trigger is a great addition to Application Actions. By combining it with the Terminate App Action you can prevent unwanted apps or processes from starting. Or you can ensure that the application is always running, by starting it as soon as it has finished execution or has crashed.
You have the option to either monitor a specific application located in a designated folder or skip the path requirement and monitor applications regardless of their location on the disk.
Process & App Monitor features…
A free no-code solution to monitor running Windows programs and react to their changes.
Regularly watch all running processes in Windows and show a dialog box or send an email message as soon as a specific app is started.
Make a log of when a particular application is started or stopped, and further process the created log with powerful text processing Actions.
Detailed help…
2,336,577
We're growing fast. Thank you!
Best
in class!
Recent news
May 26, 2023
Automation Workshop Free Edition v7.0.0 offers new actions for managing Windows services and applications, enhanced FTP/cloud operations, UI fixes, and improvements in the Variable Wizard and Advanced Fallback handling.
May 25, 2023
Automation Workshop Free Edition v6.5.0 adds 2 new Triggers—Service Monitor and Process & App Monitor. 5 new Actions—Start & Stop Service, Service Maintenance, List Services, Terminate App, and List Apps.
May 25, 2023
Automation Workshop Free Edition v6.2.0 4 adds 4 new Actions—Change Default Printer, Enclosed Text, Lookup Text, and Append to Variable. Quick value adjustments, access to web content, character groups, freeform text, UNIX epoch time.
Many thanks! Automation Workshop is extremely handy. Will share it with my friends.—Antonio B.
Last updated: May 26, 2023
Dec 11, 2023 · 17:59

0.020
·
0.000

0.6 · 7.5