Add a Service Monitor Trigger to your automated workflow to initiate Actions when a specific service reaches the specified status. Besides Windows service monitoring, Automation Workshop Free Edition allows you to monitor Kernel and File system drivers.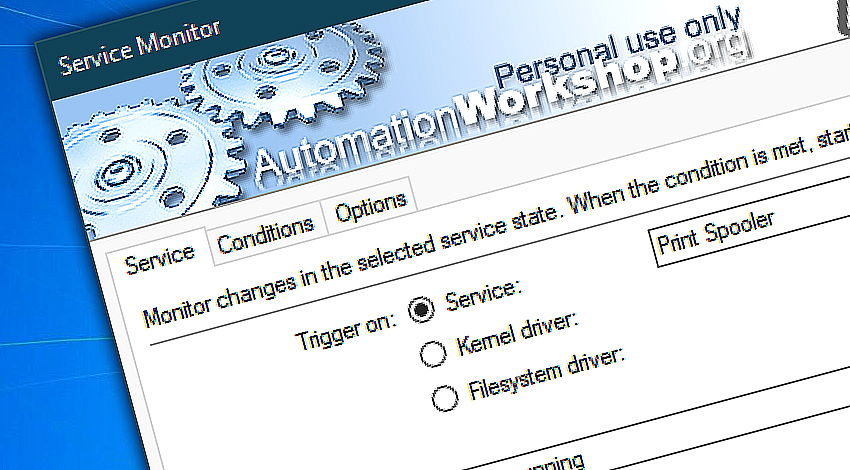 Choose a Windows service to monitor and the status which will trigger an automated workflow. The Service Monitor Trigger can start a workflow when the status have just changed, e.g., just started, just stopped, just paused, or just resumed. Or it can trigger continuously on a particular service or driver status, such as is installed, is running, is not running, is disabled, and so on.
Optimize your internal processes by replacing mundane and manual work with automated Windows service monitoring and management.
Service Monitor features…
Create a Task that monitors a Windows service and restarts it automatically as soon as it is stopped.
Automate service monitoring with a freeware no-code solution with an easy to use graphical user interface.
Show a message box, send an email, or perform other Actions on Windows service (or driver) status changes.
Detailed help…
2,336,499
We're growing fast. Thank you!
Awesome in automation!
Recent news
May 26, 2023
Automation Workshop Free Edition v7.0.0 offers new actions for managing Windows services and applications, enhanced FTP/cloud operations, UI fixes, and improvements in the Variable Wizard and Advanced Fallback handling.
May 25, 2023
Automation Workshop Free Edition v6.5.0 adds 2 new Triggers—Service Monitor and Process & App Monitor. 5 new Actions—Start & Stop Service, Service Maintenance, List Services, Terminate App, and List Apps.
May 25, 2023
Automation Workshop Free Edition v6.2.0 4 adds 4 new Actions—Change Default Printer, Enclosed Text, Lookup Text, and Append to Variable. Quick value adjustments, access to web content, character groups, freeform text, UNIX epoch time.
I love Automation Workshop, it's easy, and it saves me a ton of money on other software.—Theodere R.
Last updated: May 26, 2023
Dec 11, 2023 · 16:12

0.021
·
0.000

0.6 · 7.5