Manual Run feature allows user to decide when to start the Task. While it allows to run the Tasks in which criteria of automated execution are not specified, in many cases user can choose to manually start otherwise automated Tasks.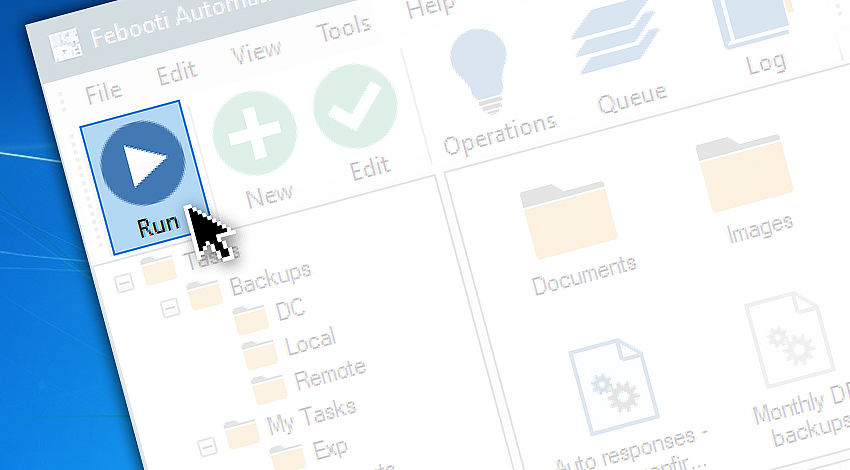 Normally, most Tasks in Automation Workshop Free Edition are started automatically when a Trigger detects a particular type of event in the system. Some Tasks, however, can require user to decide when to start them. Such Tasks may not even contain automation Triggers and contain only sequence of Actions.
Or, alternatively, user can choose to run otherwise automated Tasks manually. The only prerequisite in running automated Tasks manually is that the automation Trigger does not collect data crucial for the Actions (which would not be available during manual execution of the Task).
Usage examples…
Using Manual Run feature you can choose to:
Replace batch files, scripts and macros with Tasks designed from scriptless modules.
Run Task ahead of schedule, in addition to schedule, anytime when necessary.
Create and launch automated ad-hoc solutions for particular problem situations.
Design Tasks that do not depend on data input from system monitoring Triggers.
Run automation…
Besides options for creating batch file replacements for manual start on user demand, freeware Automation Workshop offers many ways to run scripts, macros, applications, commands in fully controlled automated manner · More on Automated run.
Detailed help…
Visit detailed online help knowledge base:
1,554,014
We're growing fast. Thank you!
Admins
best choice!
Recent news
August 12, 2021
Automation Workshop Free Edition v5.1.1 updates a networking engine for Cloud & FTP communication.
August 3, 2021
Automation Workshop Free Edition v5.1.0 enhances Log Manager filtering features and improves Windows edition detection. Fixes some UI bugs.
August 2, 2021
Automation Workshop Free Edition v5.0.0 introduces 6 new Actions. Trigger Manager to manage Triggers. 50+ UI and UX improvements.
Automation Workshop has allowed me to move towards the goal of a completely automated computer activities. Enjoy the life!—Frank M.
Last updated: August 12, 2021
Oct 22, 2021 · 07:53

0.004
·
0.000

0.6 · 3.8