Windows Tray or Notification Area enables you to access your automated Tasks quickly. Any Task can be launched with a simple tap.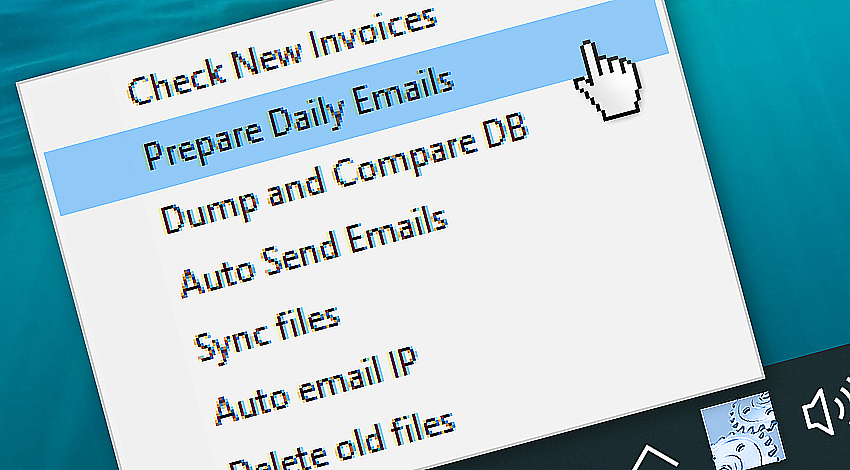 Sometimes your automated workflow requires that Tasks can be started quickly from a user Desktop. In such a case the Taskbars Tray Icon is a perfect choice, that allows a user to pick and launch an automated Task quickly without switching to the Automation Worksop app.
To enable the launch from the Taskbar, open the Task Properties and choose the Quick access from Tray Icon option under the Task's tab. Note, that the option is available only for the Tasks that are enabled.
Usage examples…
Bookmark your most used Tasks directly into Windows Notification Area for instant access.
Create a Task launch surface for Terminal Server users that does not have access to the Automation Workshop user interface.
Allows to make an easy to use launch option for users that are not familiar with the Automation Workshop interface.
Run automation…
Besides options for quickly launching Tasks, freeware Automation Workshop offers many ways to run scripts, macros, applications, commands in fully controlled automated manner · More on Automated run.
Detailed help…
Visit detailed online help knowledge base:
2,135,445
We're growing fast. Thank you!
Your PC automated!
Recent news
May 26, 2023
Automation Workshop Free Edition v7.0.0 offers new actions for managing Windows services and applications, enhanced FTP/cloud operations, UI fixes, and improvements in the Variable Wizard and Advanced Fallback handling.
May 25, 2023
Automation Workshop Free Edition v6.5.0 adds 2 new Triggers—Service Monitor and Process & App Monitor. 5 new Actions—Start & Stop Service, Service Maintenance, List Services, Terminate App, and List Apps.
May 25, 2023
Automation Workshop Free Edition v6.2.0 4 adds 4 new Actions—Change Default Printer, Enclosed Text, Lookup Text, and Append to Variable. Quick value adjustments, access to web content, character groups, freeform text, UNIX epoch time.
I'd like to say how important Automation Workshop has become to my business! I'm proud to be your customer.—Richard M.
Last updated: May 26, 2023
Jun 04, 2023 · 19:06

0.004
·
0.000

0.6 · 3.8