SFTP Watcher is a freeware file monitor, that launches automated Tasks on various events at remote SFTP or SCP server, namely, when a new file appears, when file is being changed, or deleted, also, on file size or count of the files.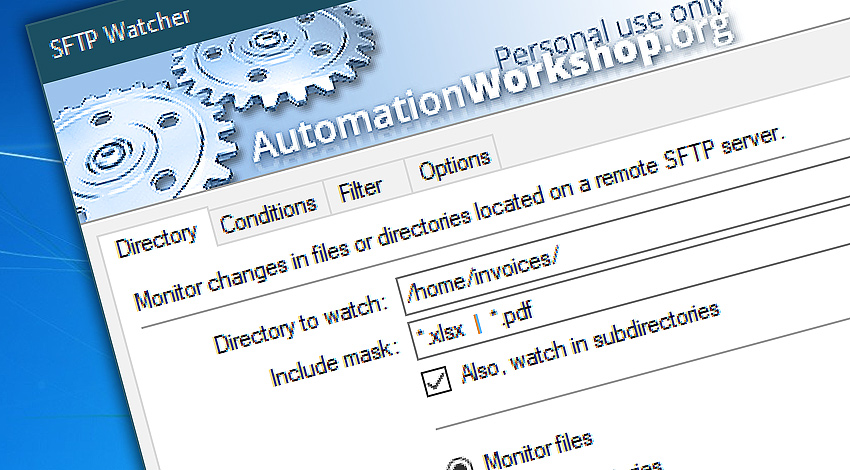 One of many Triggers of Automation Workshop is SFTP Watcher. It allows creating scheduled and automated Tasks that involve remote SFTP or SCP servers. It connects to the servers automatically to scan for new, deleted, removed files, as wall as, it looks for predefined file count or size in the server.
Once the user's defined event occurs, the Trigger launces an automatic Task, that performs automated steps, such as, upload, download of files, synchronizing directories, even sending a just downloaded file as email attachment.
SFTP Watcher features…
Monitor SFTP server for various file or directory events, and launch a Task to process the file.
Watch a directory on SFTP or SCP server for new file, process it with Text Actions, and send results to email.
Scan an SFTP server for file changes, and make a custom log about events, or send the events to the email in real-time.
Detailed help…
1,554,035
We're growing fast. Thank you!
Best
of the best!
Recent news
August 12, 2021
Automation Workshop Free Edition v5.1.1 updates a networking engine for Cloud & FTP communication.
August 3, 2021
Automation Workshop Free Edition v5.1.0 enhances Log Manager filtering features and improves Windows edition detection. Fixes some UI bugs.
August 2, 2021
Automation Workshop Free Edition v5.0.0 introduces 6 new Actions. Trigger Manager to manage Triggers. 50+ UI and UX improvements.
Automation Workshop makes doing my job much easier.—Susan H.
Last updated: August 12, 2021
Oct 22, 2021 · 08:56

0.004
·
0.000

0.6 · 3.8