Comment Action allows to insert comment notes directly in Task that describes the design specifics or can later remind the Task design. Comments can also be retrieved by other Actions.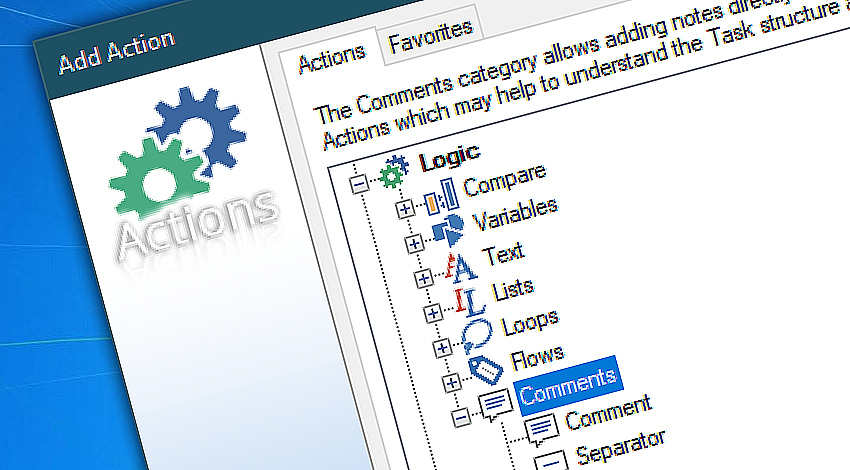 Comment is a passive action that allows user to make remarks directly within the Task to remember its structure, design or parameters. Comment contents, though, can be retrieved by following actions.
Detailed help…
See more detailed information about comments:
Comment · put comment directly in workflow.
1,442,728
We're growing fast. Thank you!
Best
in class!
Recent news
November 17, 2020
Automation Workshop Free Edition v4.5.1 fixes the UI bug in Input dialog Action.
November 12, 2020
Automation Workshop Free Edition v4.5.0 introduces new TLS options. Fixes specific Service, emailing, and SFTP issues. More improvements.
July 8, 2020
Automation Workshop Free Edition v4.1.1 ensures compatibility with different Windows Domain and network configurations.
I would like to thank you for offering Automation Workshop for free. It has really helped me automate some really boring stuff.—Bob G.
Last updated: March 3, 2021
Mar 02, 2021 · 08:07

0.005
·
0.000

0.4 · 3.8