Comments category include Actions allows you to enhance the Task by adding annotations.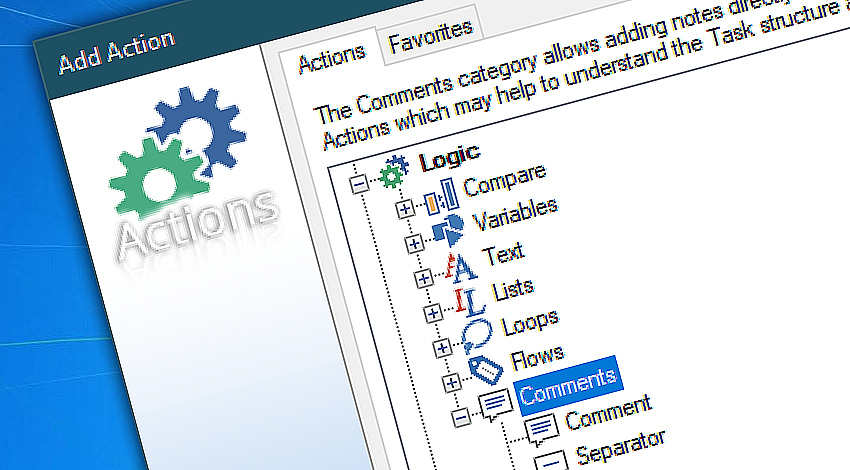 Remarks and comments are non-functional elements of a Task that makes the Task more maintainable. A well written comment allows humans to better understand the Task, while its content is ignored by Automation Workshop.
A separator allows visually splitting a Task into its logical parts. Various color tones are available to even more emphasize important parts of a task. Another way to annotate a Task is by adding its description.
Detailed help…
Comment Actions…
Comment is a passive Action that allows user to make remarks directly within the Task to remember its structure, design or parameters. Comment contents, though, can be retrieved by following Actions.
Separator visually separate Task workflow into multiple subtasks.
2,135,439
We're growing fast. Thank you!
Best
in class!
Recent news
May 26, 2023
Automation Workshop Free Edition v7.0.0 offers new actions for managing Windows services and applications, enhanced FTP/cloud operations, UI fixes, and improvements in the Variable Wizard and Advanced Fallback handling.
May 25, 2023
Automation Workshop Free Edition v6.5.0 adds 2 new Triggers—Service Monitor and Process & App Monitor. 5 new Actions—Start & Stop Service, Service Maintenance, List Services, Terminate App, and List Apps.
May 25, 2023
Automation Workshop Free Edition v6.2.0 4 adds 4 new Actions—Change Default Printer, Enclosed Text, Lookup Text, and Append to Variable. Quick value adjustments, access to web content, character groups, freeform text, UNIX epoch time.
In just one hour I managed to automate work which took me an hour daily!—Ethan D.
Last updated: May 26, 2023
Jun 04, 2023 · 18:57

0.005
·
0.000

0.6 · 3.8