Comments category include Actions allows you to enhance the Task by adding annotations.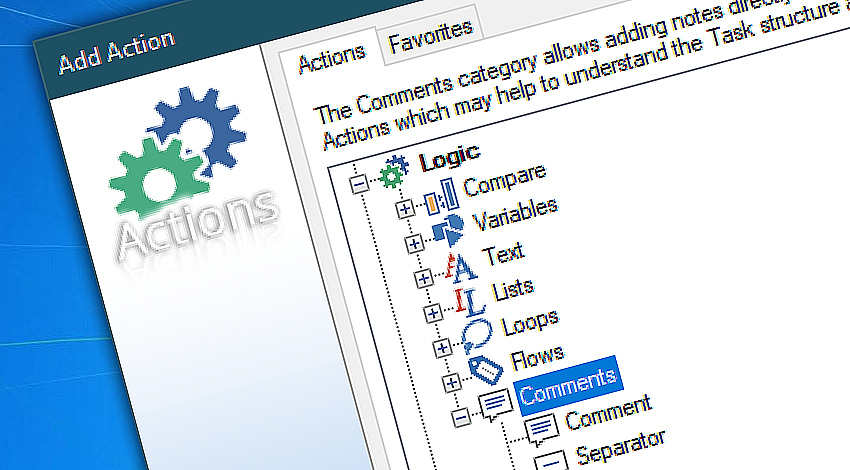 Remarks and comments are non-functional elements of a Task that makes the Task more maintainable. A well written comment allows humans to better understand the Task, while its content is ignored by Automation Workshop.
A separator allows visually splitting a Task into its logical parts. Various color tones are available to even more emphasize important parts of a task. Another way to annotate a Task is by adding its description.
Detailed help…
Comment Actions…
Comment is a passive Action that allows user to make remarks directly within the Task to remember its structure, design or parameters. Comment contents, though, can be retrieved by following Actions.
Separator visually separate Task workflow into multiple subtasks.
2,011,901
We're growing fast. Thank you!
Best
in class!
Recent news
June 21, 2022
Automation Workshop Free Edition v6.1.0 adds 3 new Actions, including Sync Folders. Action highlighting, remote deployment enhancements, minor bug fixes, and much more…
June 20, 2022
Automation Workshop Free Edition v6.0.0 features remote orchestration and management tools, API, global variables, schedule policy. Countless improvements.
November 29, 2021
Automation Workshop Free Edition v5.5.0 includes Google Cloud Storage and DigitalOcean Spaces support. Numerous UI & UX improvements.
Automation Workshop is an awesome piece of software—love the intuitiveness, flexibility and simplicity.—Howard C.
Last updated: June 21, 2022
Feb 08, 2023 · 01:13

0.004
·
0.000

0.7 · 3.8