The Variable category features Actions that allows to extend the data flow among Actions as well as to increase and decrease numeric values of variables.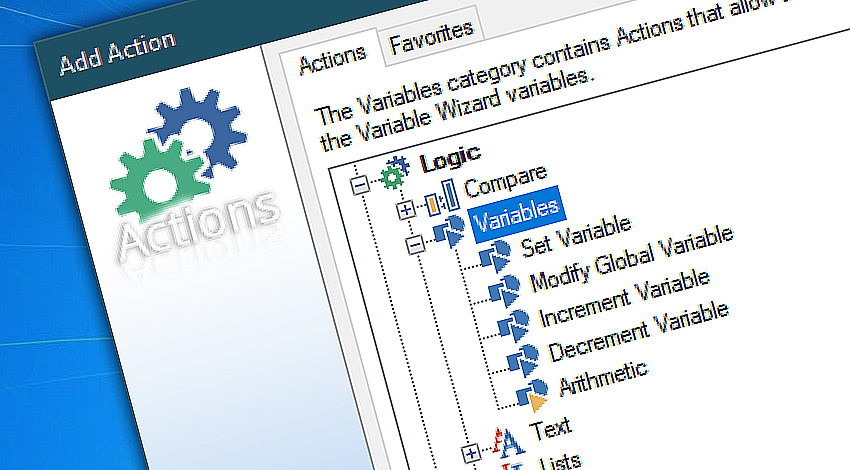 Custom variable names can be of any length and support unicode characters, allowing to apply truly versatile naming schemes for dynamic context-specific values. When using variables for storing numerical data, it is possible to store, increment or subtract very small and very large numbers, both positive and negative. Scientific or exponential notation is supported as well.
Set variable allows to create or update a custom variable and write a value into it.
Increment variable adds a specified amount to variables that contain numeric value.
Decrement variable subtracts a specified amount from variables that contain numeric value.
Even more help…
Visit detailed online help knowledge base:
1,231,962
We're growing fast. Thank you!
Admins
best choice!
Recent news
March 29, 2019
Automation Workshop Free Edition v3.2.0.
January 18, 2019
Automation Workshop Free Edition v3.1.0 now fully supports Windows Server 2019. Includes many UX and UI improvements.
August 09, 2018
Automation Workshop Free Edition v3.0.0 introduces 18 new Actions in 4 categories. Numerous Action, UI and usability improvements.
Automation Workshop is an awesome piece of software. It will save us thousands of man hours this year alone!—Chuck W.
Last updated: March 29, 2019
Dec 15, 2019 · 06:18

0.005
·
0.000

0.3 · 3.9