Tasks category features Actions that can operate the Tasks themselves. These Actions can enable, disable or toggle a Task or group of Tasks upon occurrence of some event.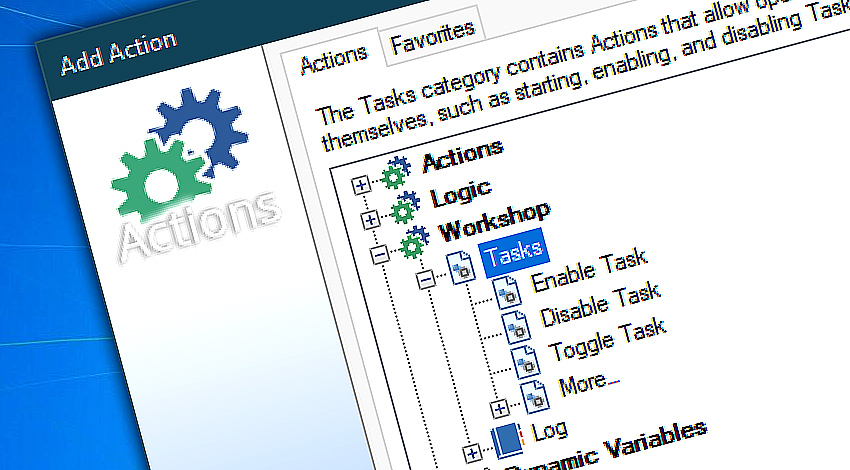 If necessary, user may choose to create Task enabling and disabling sequences to address the more advanced situations that require step-by-step resolution where each step is performed by different Task.
Detailed help…
Task Actions…
Enable Task nables one or multiple Tasks. Enabled Tasks have their Triggers monitoring the system for automatic execution.
Disable Task disables one or multiple Tasks. Disabled Tasks have their Triggers disabled, so that they do not run automatically, unless started by the Start Task Action.
Toggle Task enables the disabled Tasks and disables the enabled ones.
2,011,984
We're growing fast. Thank you!
Admins
best choice!
Recent news
June 21, 2022
Automation Workshop Free Edition v6.1.0 adds 3 new Actions, including Sync Folders. Action highlighting, remote deployment enhancements, minor bug fixes, and much more…
June 20, 2022
Automation Workshop Free Edition v6.0.0 features remote orchestration and management tools, API, global variables, schedule policy. Countless improvements.
November 29, 2021
Automation Workshop Free Edition v5.5.0 includes Google Cloud Storage and DigitalOcean Spaces support. Numerous UI & UX improvements.
Automation Workshop is an awesome piece of software—love the intuitiveness, flexibility and simplicity.—Howard C.
Last updated: June 21, 2022
Feb 08, 2023 · 03:05

0.005
·
0.000

0.6 · 3.8