Service Actions enables you to create fully automated workflows that monitor and manage Windows services/drivers.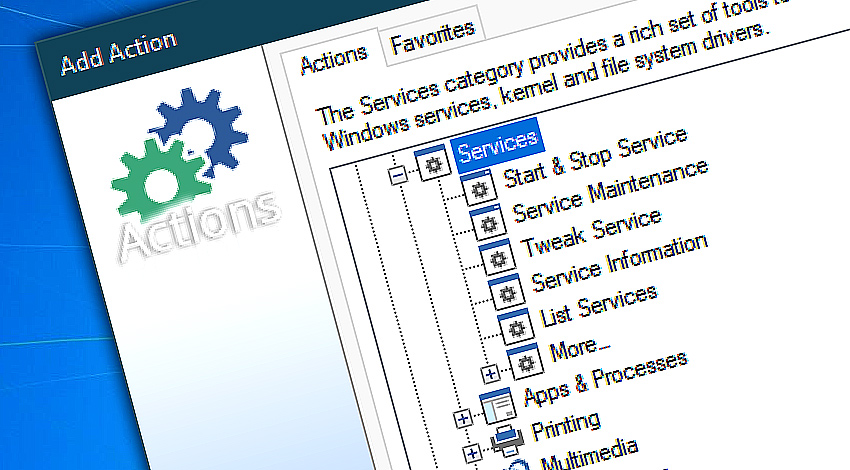 Automation Workshop Free Edition incorporates a selection of Actions and a Trigger, simplifying the automation of tasks related to your Windows services. Creating monitoring and management workflows is facilitated by intuitive no-code graphical interface tools.
Besides automating Windows services, Automation Workshop can easily handle Kernel and Filesystem drivers. All the service related Actions and the Trigger are fully compatible with Windows drivers.
Detailed help…
Service Actions…
Start & Stop Service allows you to automate Windows service management, such as starting, stopping, restarting, pausing, and so on.
Service Maintenance Action allows Windows service installing and uninstalling, as well as sending custom control codes to services and drivers.
Tweak Service automates changing of the service startup types—automatic, manual, disabled, or delayed.
Service Information provides important information about Windows services and drivers to other Actions.
List Services creates a snapshot of all Windows services or drivers. The created list can be processed with Loop Actions.
Service Monitor…
2,336,532
We're growing fast. Thank you!
Best
of the best!
Recent news
May 26, 2023
Automation Workshop Free Edition v7.0.0 offers new actions for managing Windows services and applications, enhanced FTP/cloud operations, UI fixes, and improvements in the Variable Wizard and Advanced Fallback handling.
May 25, 2023
Automation Workshop Free Edition v6.5.0 adds 2 new Triggers—Service Monitor and Process & App Monitor. 5 new Actions—Start & Stop Service, Service Maintenance, List Services, Terminate App, and List Apps.
May 25, 2023
Automation Workshop Free Edition v6.2.0 4 adds 4 new Actions—Change Default Printer, Enclosed Text, Lookup Text, and Append to Variable. Quick value adjustments, access to web content, character groups, freeform text, UNIX epoch time.
I've been wanting this functionality for years and you've implemented it perfectly. Nice job!—Robert M.
Last updated: May 26, 2023
Dec 11, 2023 · 16:57

0.020
·
0.000

0.6 · 7.5