Log Action extends the default Automation Workshop logging capacities by adding an option to write in its service log. This allows to emphasize the importance of an event by adding context relevant information.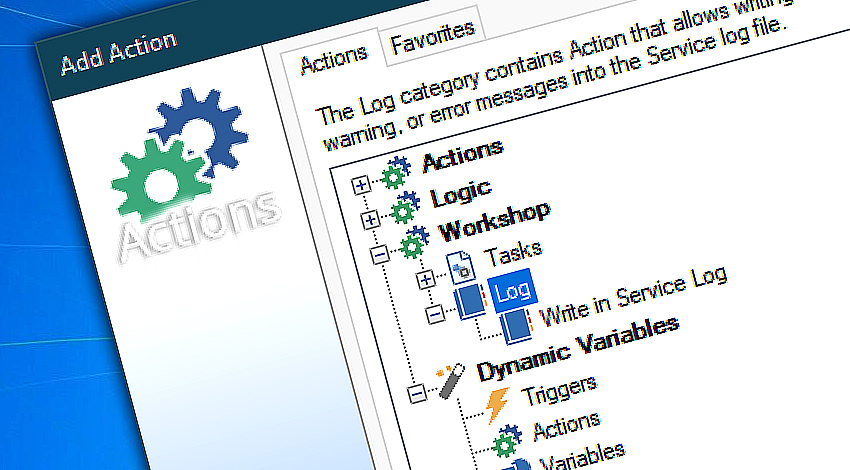 When it comes to event logging, Automation Workshop offers many useful features to deliver a really comprehensible picture of what has happened during execution of automated Tasks. However, if for some arbitrary reason you need to provide even more data for logging, Write to Log Action does just that.
With Write to Log Action you can automatically write anything that seems relevant into log file next to its default information. You can choose minimum logging with custom messages or, quite on contrary, log as much as possible and add even more.
Detailed help…
Log Actions…
Write in Service Log allows writing information, warning and error messages into Windows system event log, where they can be accessed independently or by specialized applications.
1,729,635
We're growing fast. Thank you!
Best
of the best!
Recent news
November 29, 2021
Automation Workshop Free Edition v5.5.0 includes Google Cloud Storage and DigitalOcean Spaces support. Numerous UI & UX improvements.
November 26, 2021
Automation Workshop Free Edition v5.2.0 fixes the listing option both for the List Files and the List Remote Files Actions.
August 12, 2021
Automation Workshop Free Edition v5.1.1 updates a networking engine for Cloud & FTP communication.
Just wanted to say thank you for offering Automation Workshop for free. It has made my computing "rituals" a whole lot easier. Appreciate being able to use this without charge.—Bob G.
Last updated: November 29, 2021
May 17, 2022 · 10:55

0.004
·
0.000

0.6 · 3.8